S Shampoo 290ML<ss cool> (with benefits)
Regular price

Sale price

$24.00
Share
Easy Shopping Guide

Payment method

Credit Card / Shop Pay / PayPal / Apple Pay / Google Pay

This site is fully compatible with SSL, and all information is encrypted before transmission, so please use it with confidence.

* For more information > Payment methods

Delivery / Shipping

All items are shipped from Tokyo to over 70 countries and territories. For international shipping, we use DHL and other reliable shipping methods. Shipping companies cannot be specified.

To the United States of America


Regular shipping: $30US
Free shipping for purchases over US$120
Free of customs duty


After adding items to your cart, you can estimate the shipping cost to your shipping address.

*In most cases, there are no customs duties or tariffs on shipments to the United States, but in the unlikely event that there are, the recipient will be responsible for them. Please contact the customs authorities for information on taxes and duties.

*For more information > Shipping Policy

Returns / Exchanges

We pay utmost attention to the quality of our products and delivery, but if you receive a defective or incorrect product, we will promptly replace it with a good or correct product.
First of all, please contact us within 5 business days after the product arrives and return it by cash on delivery within 10 days.
If we do not have a replacement item in stock, we will refund the payment amount to your payment method.
We cannot accept returns or exchanges due to customer reasons such as wrong images or wrong orders. Please check the product details and order details before placing an order.

* For more information > Refund Policy
DENIS SS SHAMPOO
DENIS s shampoo
290ml / 9.8floz

Official store limited: with special pump benefits

COOL SHAMPOO / UNISEX
A COOL shampoo is born that inherits DENIS' basic stance of leaving the necessary and removing the unnecessary.

Super cool feeling of coolness, but with just a shampoo, you can get firm and glossy hair ■
[POINT]

◇ Refreshing after sauna, gym, surfing, etc.
◇ It's addictive and refreshing to use, and it's very gentle on your hair, giving it a shiny and firm finish.
◇ A well-balanced combination of carefully selected high-quality cleaning ingredients.
◇ Achieves a convincing finish even though you feel a cool sensation.
◇ Of course, no conditioner is required.
◇ Quality that can be used all year round, not just in summer.
[How to use]
First, rinse thoroughly with hot water.
Most stains can be removed with just water.
Next, remove the appropriate amount of moisture from the hair and apply an appropriate amount to the entire hair.
Lather well and use your fingertips to gently wash.
The back of the ear and the back of the head are places where unpleasant odors are emitted.
Rinse thoroughly.
The fragrance of natural essential oils may change due to the effects of UV rays, etc., but this does not affect the use.
Store away from direct sunlight, high temperature, low temperature, and high humidity, and use as soon as possible.
【option
・Other sizes]
[All ingredients]
Water, lauroyl methyl alanine sodium, cocoyl methyl taurine taurine sodium, menthol, cocamidopropyl betaine, PEG-2 caprylylamine, PEG-60 hydrogenated castor oil, PEG-40 hydrogenated castor oil, PPG-10 sorbitol, cannabis seed Oil, glycyrrhizic acid 2K, mint extract, polyquaternium-10, EDTA-2Na, phenoxyethanol, BG, citric acid
Collections containing this product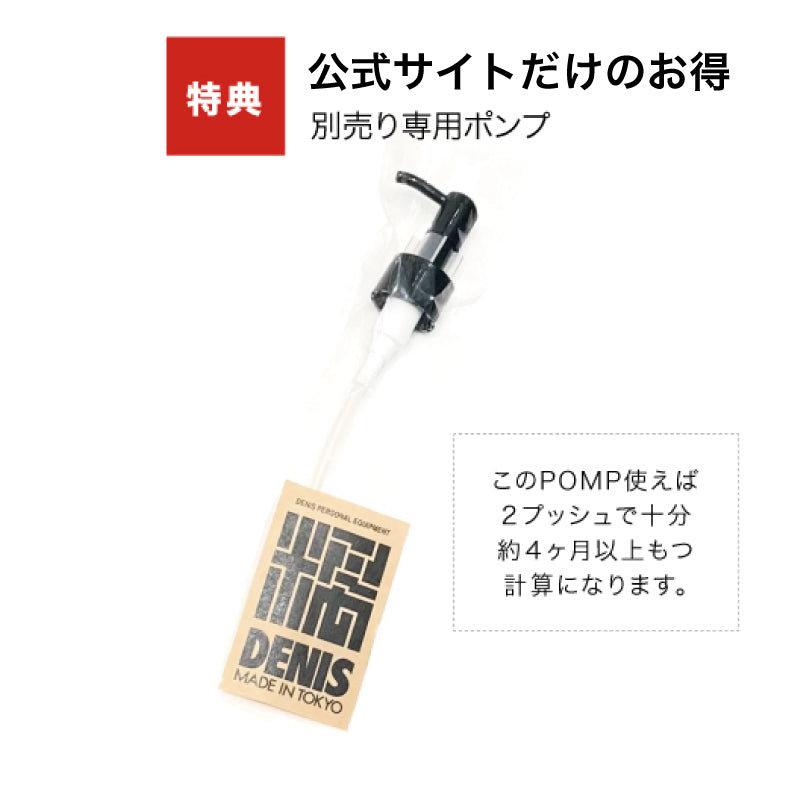 Official website for peace of mind

Various benefits and merits only available on the DENIS official website

Security of the highest standard

Providing a safe and secure shopping experience

Worldwide shipping

We deliver from Tokyo to more than 70 countries around the world