DENIS G Soap (G)
Regular price

Sale price

$17.00
Share
Easy Shopping Guide

Payment method

Credit Card / Shop Pay / PayPal / Apple Pay / Google Pay

This site is fully compatible with SSL, and all information is encrypted before transmission, so please use it with confidence.

* For more information > Payment methods

Delivery / Shipping

All items are shipped from Tokyo to over 70 countries and territories. For international shipping, we use DHL and other reliable shipping methods. Shipping companies cannot be specified.

To the United States of America


Regular shipping: $30US
Free shipping for purchases over US$120
Free of customs duty


After adding items to your cart, you can estimate the shipping cost to your shipping address.

*In most cases, there are no customs duties or tariffs on shipments to the United States, but in the unlikely event that there are, the recipient will be responsible for them. Please contact the customs authorities for information on taxes and duties.

*For more information > Shipping Policy

Returns / Exchanges

We pay utmost attention to the quality of our products and delivery, but if you receive a defective or incorrect product, we will promptly replace it with a good or correct product.
First of all, please contact us within 5 business days after the product arrives and return it by cash on delivery within 10 days.
If we do not have a replacement item in stock, we will refund the payment amount to your payment method.
We cannot accept returns or exchanges due to customer reasons such as wrong images or wrong orders. Please check the product details and order details before placing an order.

* For more information > Refund Policy
DENIS G SOAP
DENIS G Soap
GYM & SURF
Standard weight 100g
Frame kneaded soap UNISEX
<Scent of tea tree essential oil>
[Leave the necessary and drop the unnecessary]
DENIS SOAP is made with the simple idea of ​​"balancing your own skin", unlike soap that only removes dirt. What you want to be careful about when washing your face every day is to "remove what you don't need and leave what you need", and you don't need to scrub hard.
DENIS G SOAP can wash the whole body with a foam containing charcoal that has an absorbent effect, washing away excess sebum, sweat and dirt. It's not too tight and it's a refreshing wash. You can expect it to be useful after exercise and outdoors.
It is also very effective when washing the delicate zone where the skin is naturally prone to sweating.
* You can also carry it with a case sold separately. (Cut into small pieces)
[Why is DENIS SOAP solid?]
DENIS SOAP won't take away too much sebum if you rinse it off quickly. This is an effect that is not found in liquid or foam soaps that use synthetic surfactants. No wonder doctors recommend bar soap. In addition, DENIS SOAP loses its detergency immediately after washing, so it does not exert any further surfactant action and is gentle to nature. (No preservatives used)
[How to use]
When washing your face, lather the soap well with both hands. Apply the foam to the entire face and gently massage with your fingers to lift dirt. After that, rinse thoroughly with water or lukewarm water. Use a net or bubble pouch to easily create fine bubbles.

◇If you have any skin problems or if it does not suit your skin, discontinue use.
◇If the foam gets into your eyes, immediately wash it away with running water. ◇Avoid direct sunlight, high (low) temperature and humidity when storing, and use it as soon as possible. ◇Color changes over time and depending on the manufacturing method.・Although it may shrink due to evaporation of water, it does not interfere with use.



[Frame kneaded soap]
The frame kneading method is a very labor-intensive and time-consuming method. Carefully manufactured one by one by craftsmen, and cut out by hand using piano wire. The cut soap is a high quality soap that is shipped after resting for several weeks.
Due to manual work, there may be some individual differences. Also, as it dries, the center will become dented. This is also a big feature of frame kneaded soap.



[All ingredients]
Soap base, water, sucrose, glycerin, sorbitol, ethanol, tea tree leaf oil, charcoal, tocopherol, tetrasodium etidronate
Collections containing this product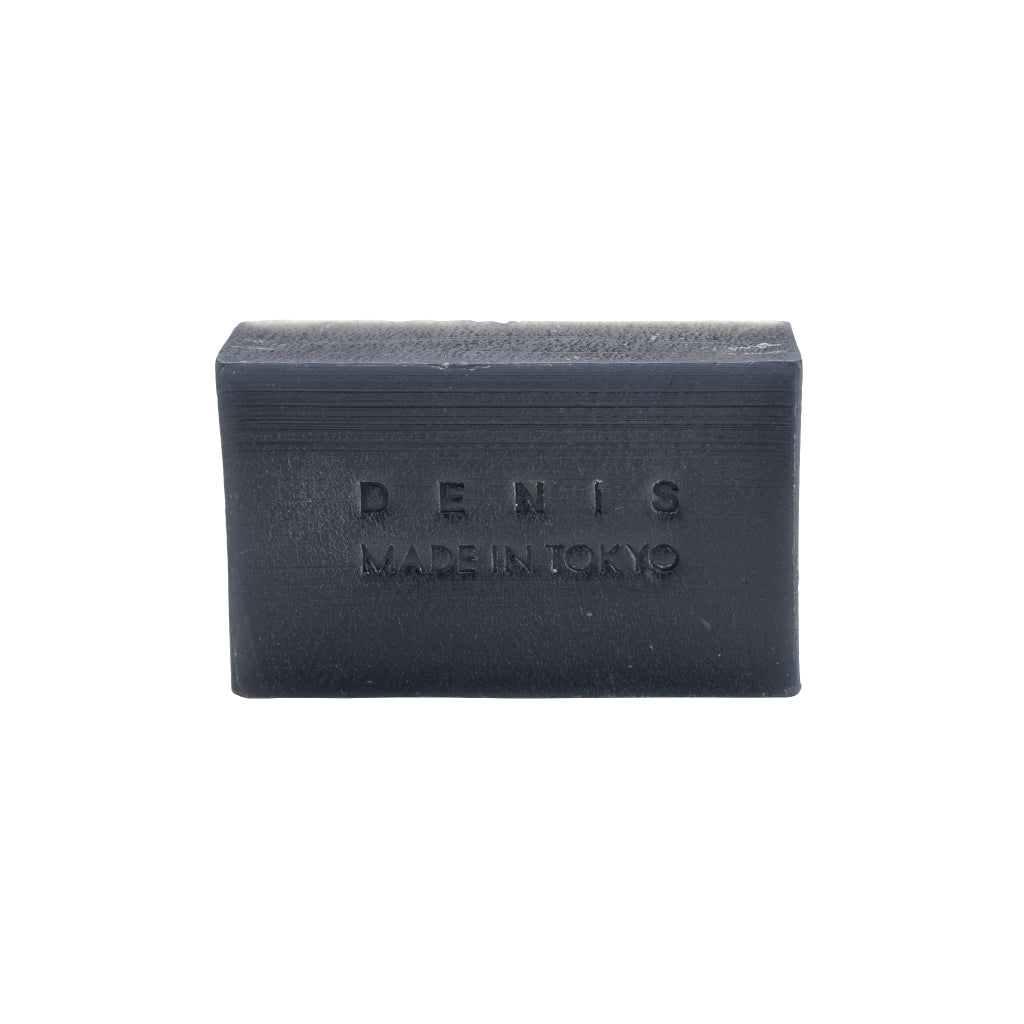 Official website for peace of mind

Various benefits and merits only available on the DENIS official website

Security of the highest standard

Providing a safe and secure shopping experience

Worldwide shipping

We deliver from Tokyo to more than 70 countries around the world